Product Analytics
GAIN FULL VISIBILITY ACROSS SYSTEMS AND NEVER MISS AN OPPORTUNITY
Anodot continuously looks for critical anomalies, and surfaces potential issues and opportunities in real time. Monitor, troubleshoot and optimize your product in one place.
Victor Em, Consumer Product Analyst
"Anodot has allowed us to invest more into scaling our usage, and have our product managers, analysts and engineers focus on what matters most."
DETECT AND REACT TO PRODUCT INCIDENTS AS THEY HAPPEN
Anodot's product analytics uses patented technology to monitor all your product data sources, learn their normal and seasonal behavior, and alert you to mission-critical deviations in real time.

By correlating across metrics and performing root cause analysis, Anodot significantly decreases detection and reaction time, while eliminating noise and false positives.

Whether it's registrations, conversions, payments, cart abandonment, logins or bounce rates - our product analytics keeps tabs on billions of daily events so that no user or revenue is lost.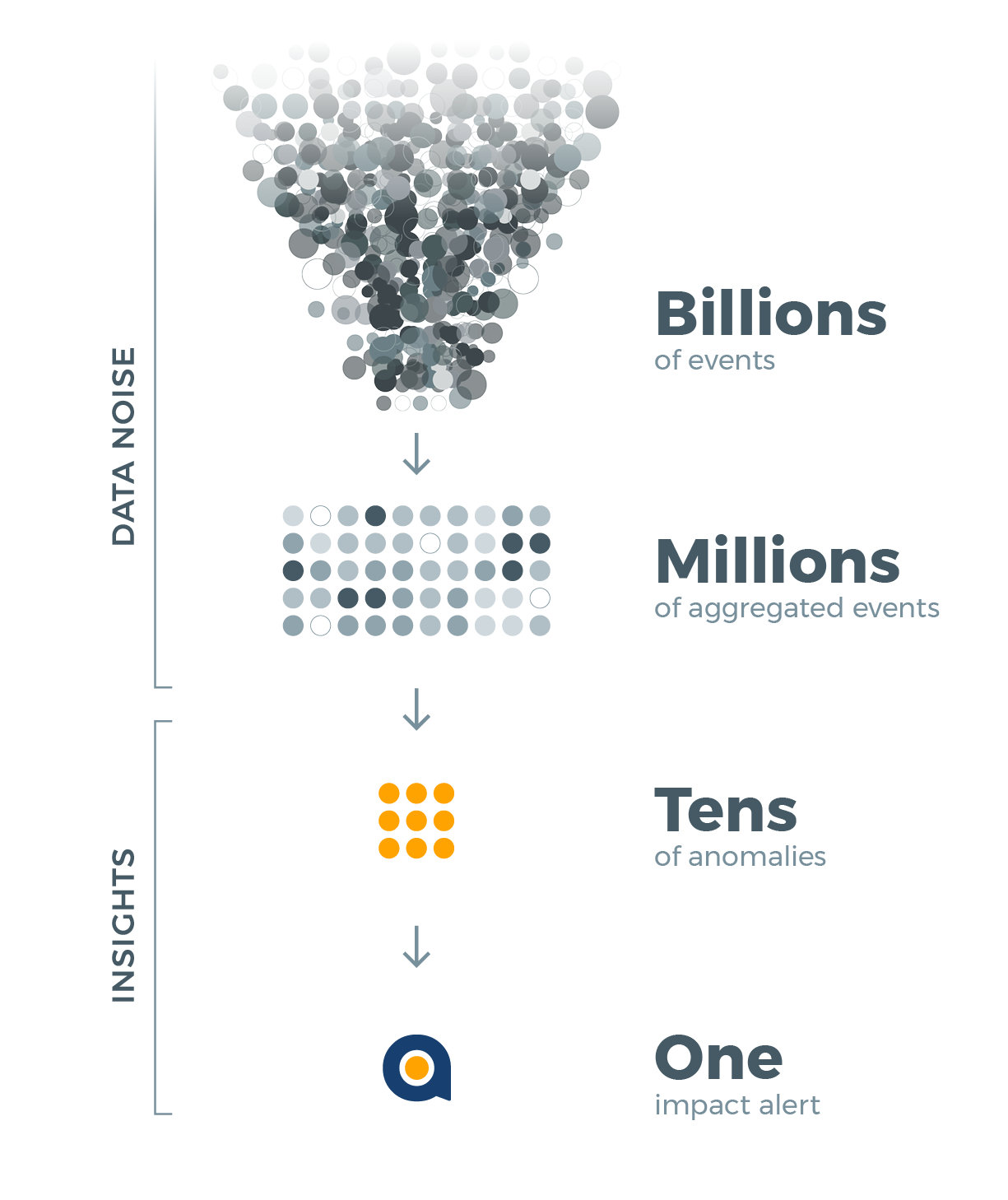 DEVELOP AND OPTIMIZE SEAMLESSLY
Your product is dynamic and ever-evolving. Version releases, A/B tests, new features, purchase funnel tweaks, and changes to customer support processes - across all your product permutations - have an immediate impact on user experience and behavior.

We watch your back by constantly monitoring critical metrics, such as spikes and drops in usage, repeat users, and conversion rates, and by detecting any critical anomalies.

Anodot's always-on monitoring provides the perfect environment to develop and optimize your product, without risking undetected issues or incidents.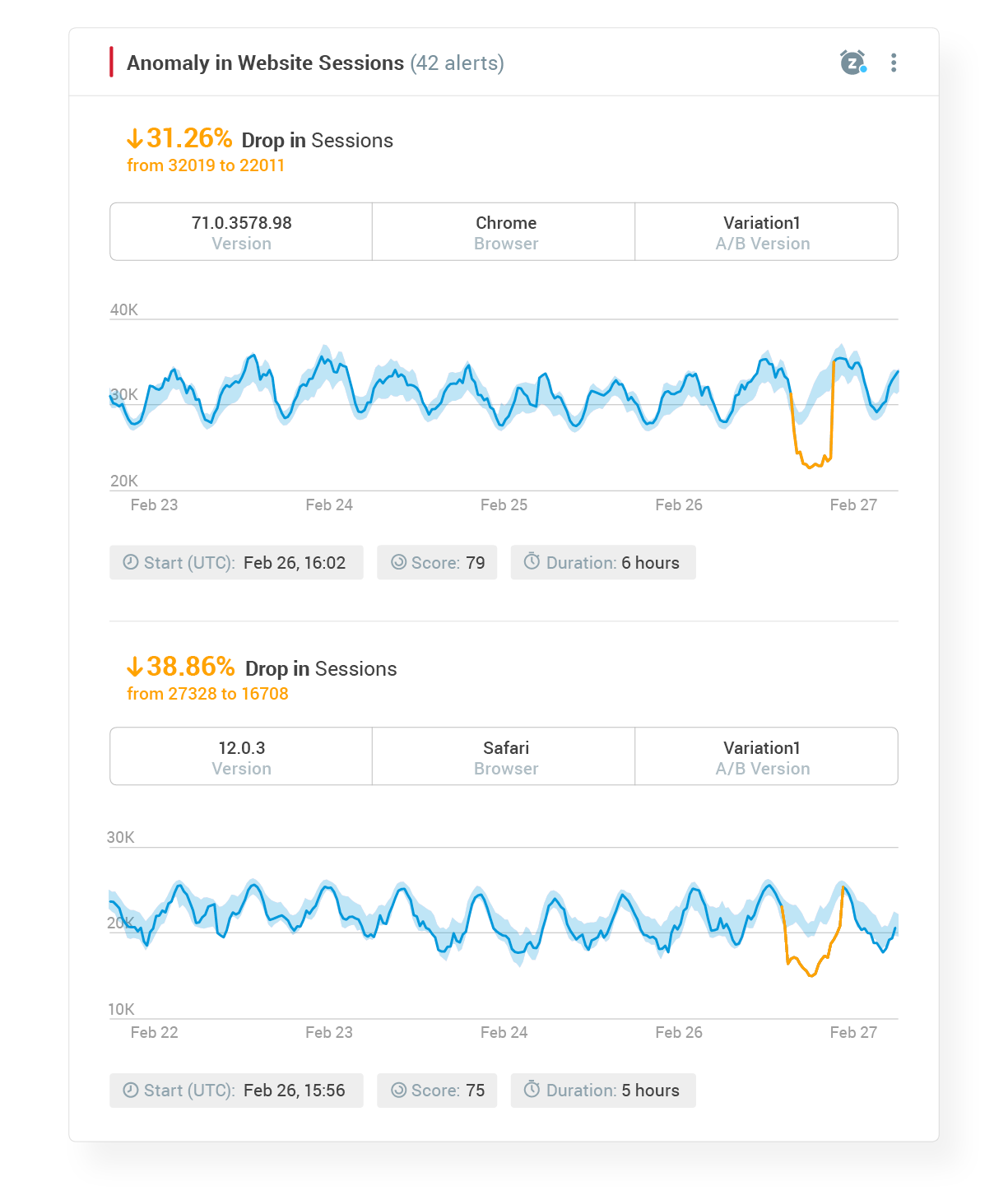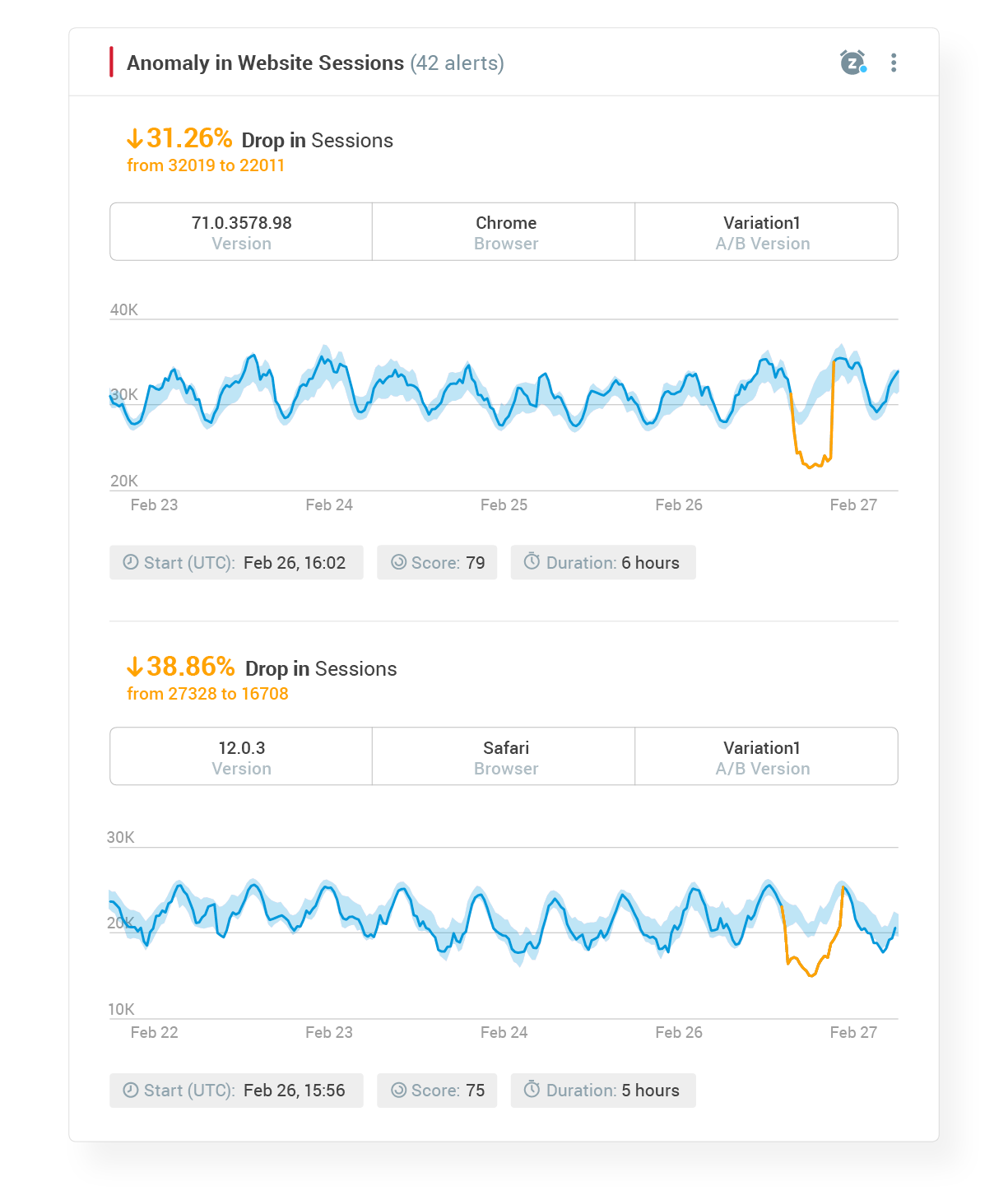 IDENTIFY OPPORTUNITIES AND SCALE PRODUCT USAGE
Unexpected anomalies in your data can be both good and bad. Mitigating the bad is critical. Doubling down on the good is the way to grow. Knowing about both in real time is crucial.

Anodot exposes you to your product's high-performing features, events and processes as they spike, ensuring you're in the position to seize them in real time.

By using Anodot to monitor all your data without unnecessary dashboards and alerts, and to cut time to detection and resolution, your team can once again focus on the creative endeavors that scale product usage and help you grow.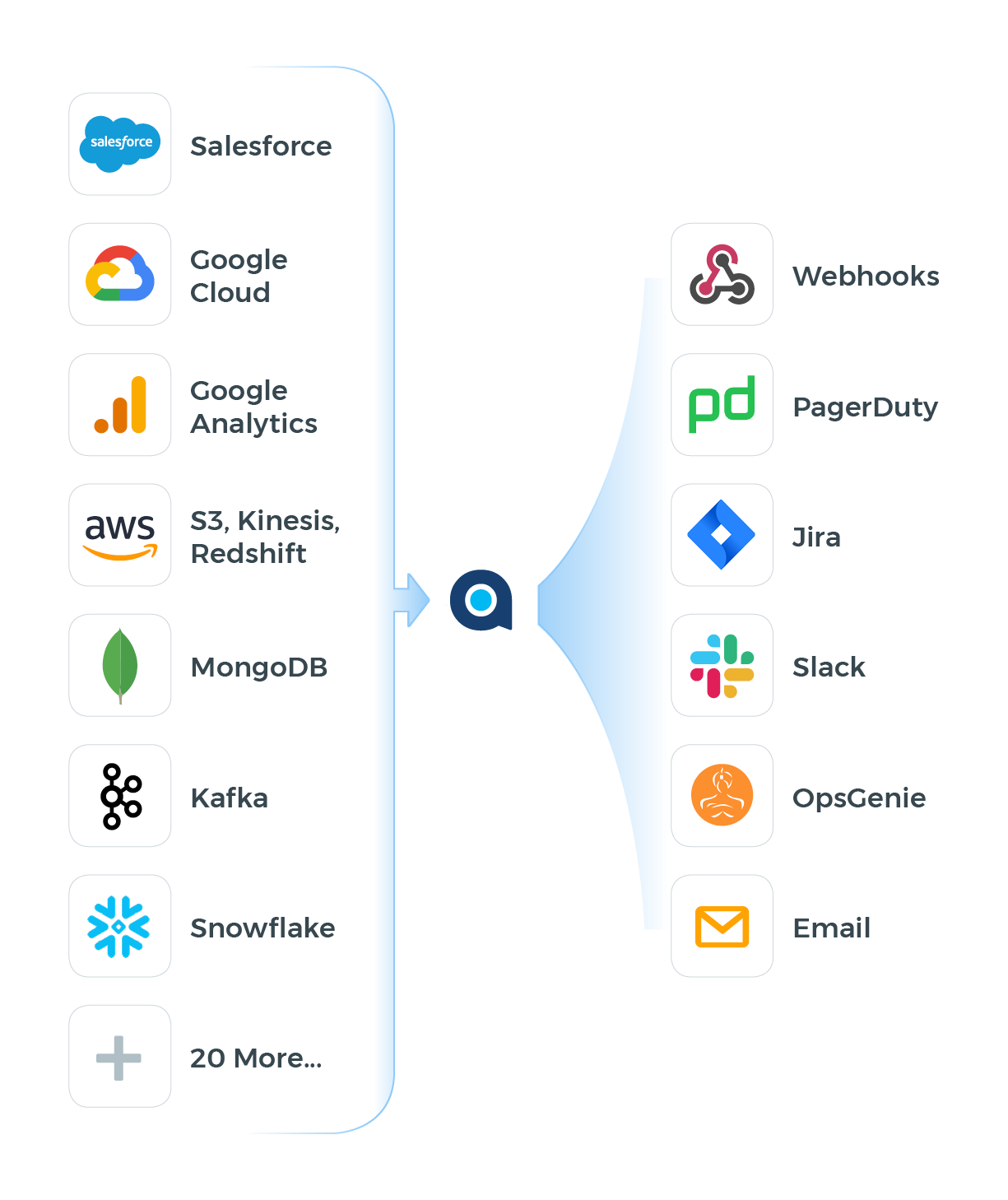 WHERE DID MY 8% CONVERSION IMPROVEMENT GO?!
An eComm brand with +8K daily transactions conducted an A/B test on the purchase flow. The winning variation gained an 8% improvement in a specific step conversion, and was assigned to all new customers.

Three weeks later, based on another A/B test, the product team updated another element in the funnel and reversed the 8% improvement altogether.

Within 3 hours of the update, Anodot detected the drop in conversion rate and identified the root cause, enabling a swift resolution which quickly restored the improved rates.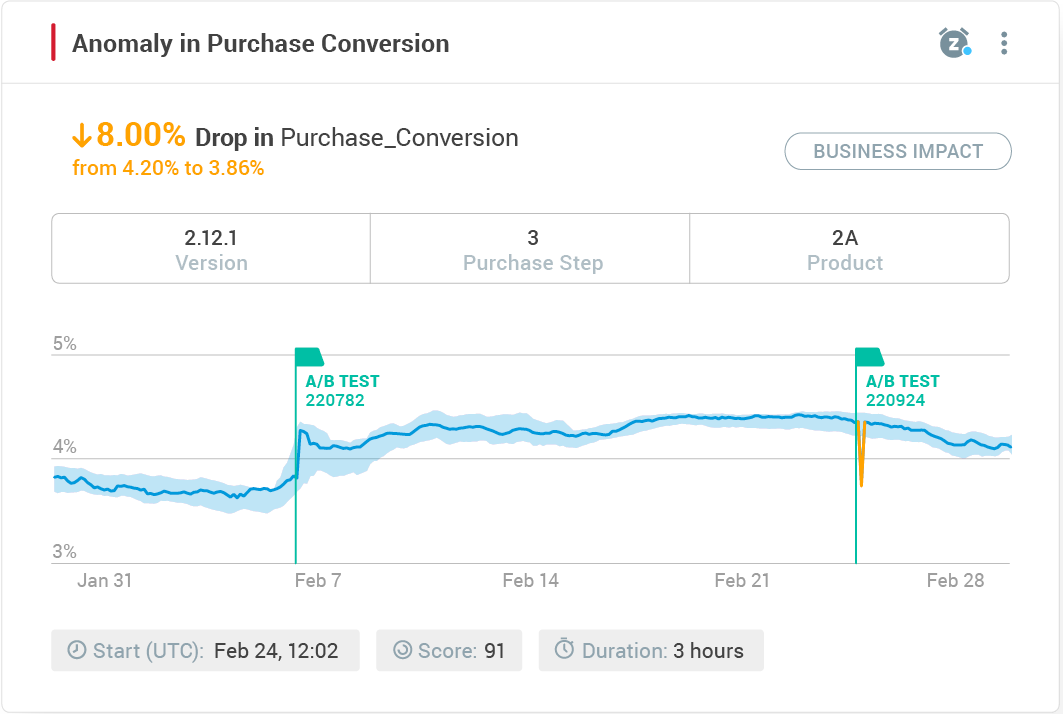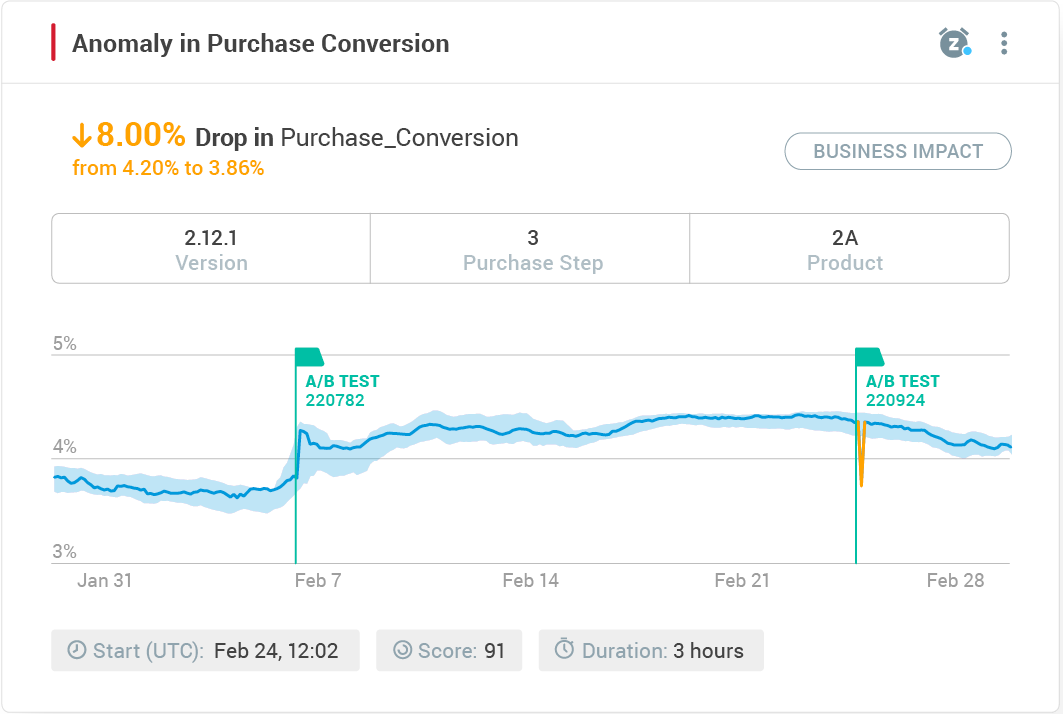 TOP BUSINESSES MASTERING THEIR PRODUCT ANALYTICS WITH ANODOT
ANALYTICS SO YOU CAN SLEEP AT NIGHT
Anodot is a full-service AI platform that monitors your data at a highly granular level - 24/7. Rest assured that if anything important happens, we will reach out.

One Ring to Rule Them All
The holistic platform collects data across all systems and touchpoints to eliminate blind spots and shorten root cause investigation.

Real-Time to the Core
Anodot monitors your metrics in real time and notifies you before issues become an issue.

No Data Scientist Needed
An intuitive interface and completely self-service UX finally puts the power of AI at your fingertips.