Adtech Analytics
THE ONLY WAY TO SEE
ALL YOUR DATA
ALL THE TIME.
Anodot monitors all your ad channels, data sources and metrics to target critical anomalies in real time. So you can focus on what matters.
Ron Lissack, Senior Vice President and Chief Architect
"Through its Autonomous Analytics Platform, Anodot has been able to quickly detect both large and subtle problems, enabling us to deliver to our customers a very high level of service as well as major cost and ROI benefits."
HAS THERE BEEN ANY CHANGE IN CAMPAIGN PERFORMANCE?
Monitoring ad performance in a segmented marketing ecosystem is a challenge. Anodot monitors every single one of your campaigns in every segment. When there's an important deviation, Anodot immediately notifies you and even correlates the issue with related metrics and events - for the fastest root cause investigation.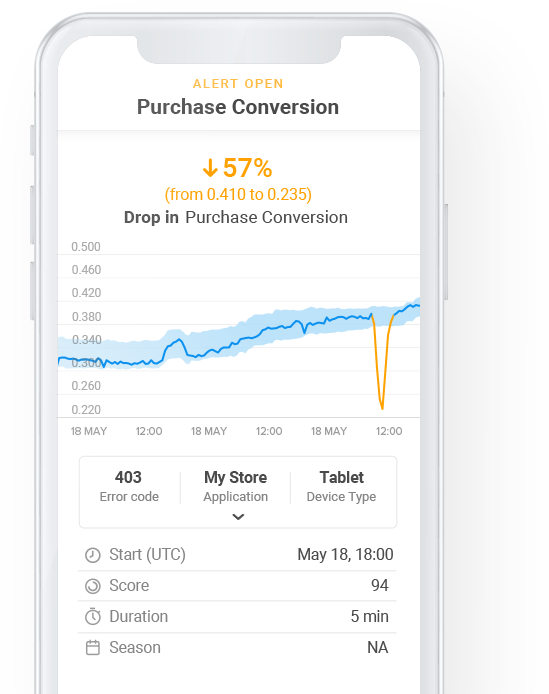 IS SOMETHING BROKEN?
Serving ads at scale triggers exponential challenges. Anodot monitors the backend process, data quality, tracking continuity and ad load time to ensure platform performance and to protect the user experience.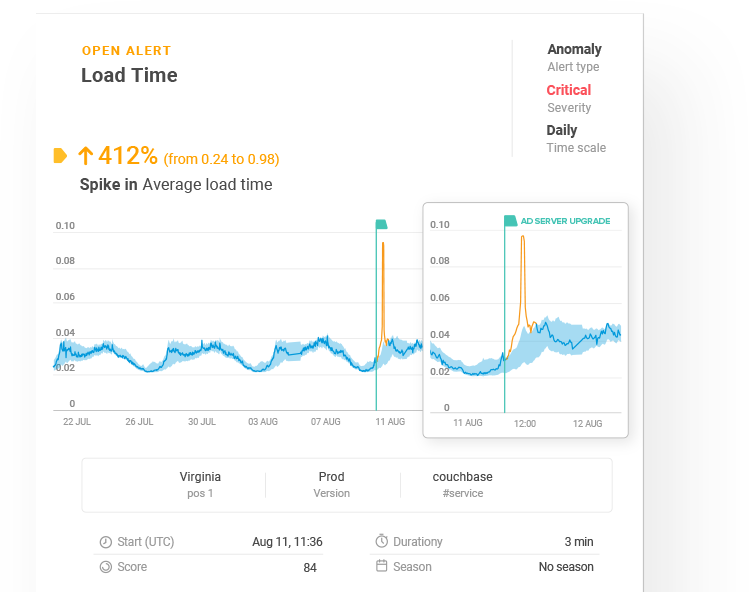 WHY DID REVENUE CHANGE?
Running an ad platform or agency feels completely different when you start seeing increased exposure. Anodot can help you proactively manage your accounts. Monitor changes in traffic volume, quality and conversion rates. See which campaigns have "gone silent" or are at risk of churn. Use these insights to reach out to customers and resolve issues before they escalate.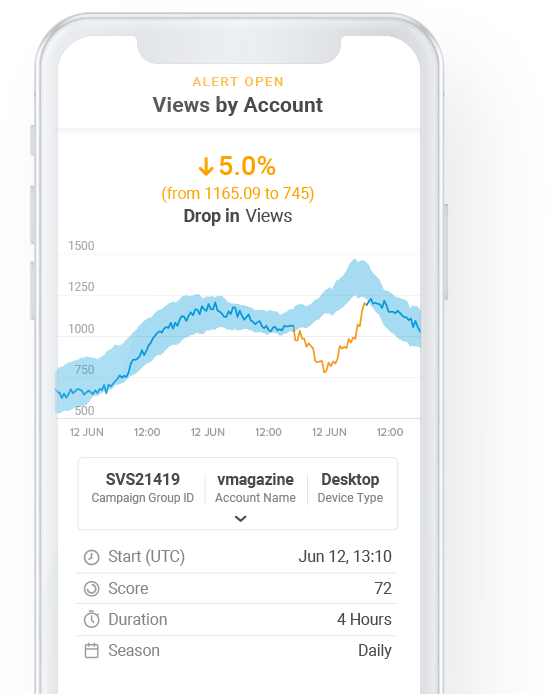 AM I EXPOSED TO FRAUD?
Advertisements are increasingly at risk of fraud. Use Anodot to combat non-human traffic, such as bots, ad injection and click hijacking. Anodot's AI and machine learning technologies detect anomalous behavior across all your data sources and notify you in real time. The correlation engine shows what other metrics may also be affected so you can reduce loss faster than ever before.
ANODOT FOR EVERY
ADTECH ROLE
PLATFORMS & AGENCIES
Proactive account management
Complete view of performance
Demand Side
(buyer)
Monitor eCPM
Monitor conversion rate
Monitor ROI
Supply Side
(seller)
Monitor inventory
Monitor bid requests
Monitor conversion rate
*per every possible permutation (ex: placements, website, ad units, buyers, OS)
TOP ADTECH PLAYERS MASTERING

THEIR BUSINESS WITH ANODOT
ANALYTICS SO YOU CAN
SLEEP AT NIGHT
Anodot is a full-service AI platform that monitors your data at a highly granular level - 24/7. Rest assured that if anything important happens, we will reach out.

One Ring to Rule Them All
The holistic platform collects data across all your systems and touchpoints to eliminate blind spots and provide a cohesive view.

Real-Time to the Core
Anodot monitors your metrics in real time and notifies you before issues become an issue. We supply a complete map towards shortening the root cause investigation.

No Data Scientist Needed
An intuitive interface and completely self-service UX finally puts the power of AI at your fingertips.