eCommerce Analytics
ENSURE A FLAWLESS EXPERIENCE.
FIND GLITCHES & LEAKS IN REAL TIME.
Use Anodot to zero in on issues in
the path to purchase and supply chain
before they impact your bottom line.
Greg Kurzahls, product analyst
"Anodot gives us an iron-clad set of safeguards around performance and making sure we didn't introduce a problem. There's been clear operational wins from our perspective, especially in reducing the time required to identify and respond to issues."
WHAT IS CAUSING
CONVERSION RATES TO CHANGE?
Detecting issues early can mean the difference between losing a few hundreds in revenue to hundreds of thousands. You can protect the checkout process from roadblocks, especially when it's caused by something outside your control. Anodot's robust visibility detects even the most granular of glitches and isolates the potential cause.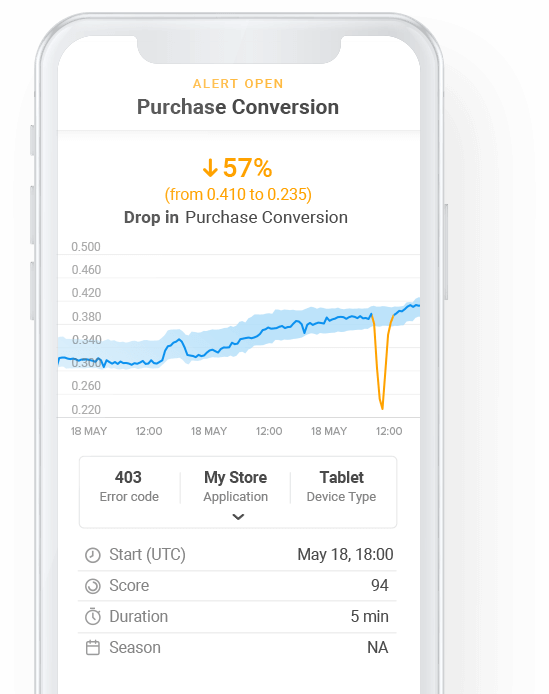 WHY DID REVENUE CHANGE?
For large retailers, with substantially greater inventories, price per consumer varies. Anodot's machine learning technology monitors how each of your metrics normally behave and what constitutes the abnormal. Our patented correlation engine helps you see the whole picture: it reveals other metrics with the same patterns, and/or related events, so you have a deeper understanding of consumer behavior.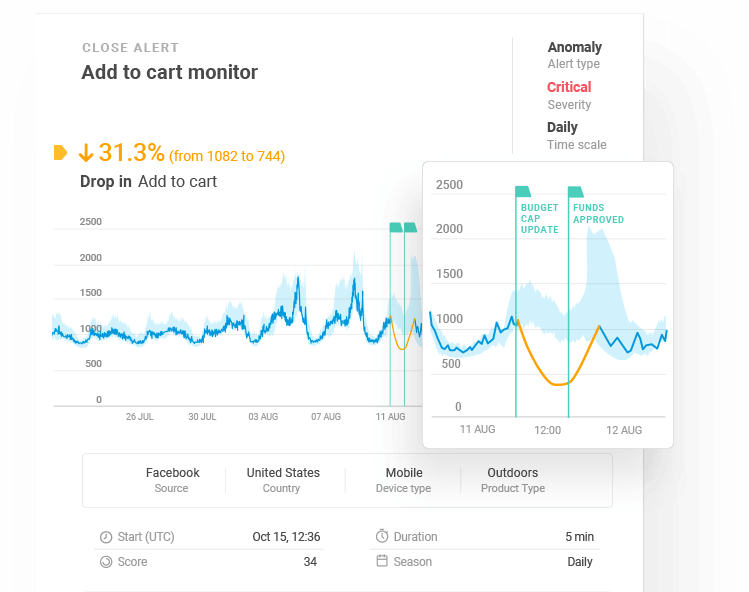 HOW CAN I GET ALERTS
ABOUT CUSTOMER FRAUD?
Fraud attempts increased by 22 percent during the 2017 holiday season from the previous year. Anodot protects merchants from fraud by detecting unexpected patterns in user behavior. It alerts you to patterns that pose security threats, even when they're designed to look like normal user activity. Spot a sudden peak in credit card chargebacks. Respond to a DDOS attack (distributed denial-of-service attack) before it shuts down business. Anodot's machine learning models adapt to keep pace with fast-evolving fraud techniques, so there's no need to manually adjust detection parameters.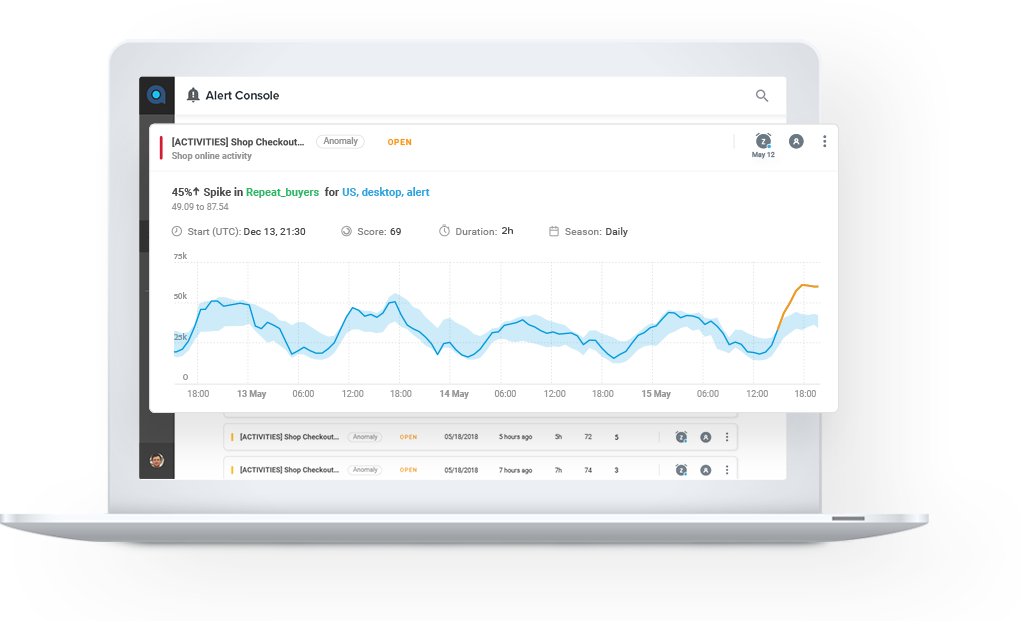 ANODOT SOLVES THIS
Delve deeper into distribution. Anodot learns the nuances of your supply chain, from the minute goods arrive at the warehouse to the moment they reach customers' hands. While monitoring dynamic conditions and events, Anodot creates real-time forecasts that are a real game-changer for marketing-inventory strategy. Anodot simulates scenarios regarding price, consumer behavior, history and many other metrics so you can go beyond planning, and start anticipating.
Anodot is connected to all your business tools and platforms, and constantly learns from them. It takes millions of transactions and fulfillment requests per day and applies AI to find the most critical issues. The alerts you see are what matters most. The best part is that over time, Anodot uses your feedback to learn and improve, and subsequently your company's operational efficiency.
Protect the forefront of your business from glitches, crashes and security threats. Anodot's data-agnostic platform monitors data across your business operations with a special focus on your online store. Identify changes in usage patterns, order fulfillment and conversion.
There are few resources devoted to finding anomalies in shipping metrics. And yet, with all the data collected in these departments, there's remains a huge opportunity in optimizing operational efficiency and cutting costs. Anodot helps you eliminate delivery obstacles, so you can achieve your best fulfillment rates, shipping time and delivery quality.
The last leg of the sales cycle is a great place to discover which products or processes need improvement. Anodot detects anomalies that would otherwise fly under the radar. Use this information to adjust your buying strategy and cut costs, improve your operations and spot emerging trends.
TOP eCOMMERCE PLAYERS MASTERING

THEIR BUSINESS WITH ANODOT
ANALYTICS SO YOU CAN
SLEEP AT NIGHT
Anodot is a full-service AI platform that monitors your data at a highly granular level - 24/7. Rest assured that if anything important happens, we will reach out.

One Ring to Rule Them All
The holistic platform collects data across all your systems and touchpoints to eliminate blind spots and provide a cohesive view.

Real-Time to the Core
Anodot monitors your metrics in real time and notifies you before issues become an issue. We supply a complete map towards shortening the root cause investigation.

No Data Scientist Needed
An intuitive interface and completely self-service UX finally puts the power of AI at your fingertips.