5G is here and is widely expected to be a transformative communications technology for the next decade.
This new data network will enable never-before-seen data transfer speeds and high-performance remote computing capabilities. Such vast, fast networks will need dedicated tools and practices to be managed, including AI and machine learning processes that will ensure efficient management of network resources and flexibility to meet user demands.
But first, let's examine how exactly this ultra-fast, robust data network will influence enterprises and private individuals. 5G is expected to have a significant impact on nearly every aspect of our daily lives. While the 5G network will eventually touch every corner of digital communication, these are the industries that will be immediately disrupted:
Automated factories

: Increasingly automated industrial processes, production lines, supply chains and inventory optimization will herald an era of IoT that will hinge on 5G networks.
Automotive Industry

: This industry is on the cusp of radical transformation. The electric vehicle is just the tip of the iceberg. 5G technologies will underpin developments in this industry, such as autonomous driving, vehicle-to-vehicle communication and in-vehicle media will require high performance, robust, reliable and low-latency 5G networks.
Energy & Water

: With rising energy costs, water scarcity, increasing demand and changing business models, there will be an acute need for households, businesses, governments and suppliers to ensure intelligent management of infrastructure. 5G is expected to play a significant role in ensuring smart grids are built with robust connectivity and communication capability.
Healthcare

: With an increasing population of senior citizens across much of the Western world, health care costs are expected to rise. New health management paradigms need to be adopted to sustain an appropriate quality of life. Remote health monitoring using various sensors and wearable devices will change doctor-patient interactions, and remote surgery will become the mainstream. 5G is expected to play a significant role in providing high quality, low-latency communications.
Media and Entertainment

: The last three years have transformed this industry rapidly – on-demand streaming services, user generated content and social media are pervasive. The next decade is expected to see increased consumption at higher bandwidths, across multiple platforms and devices, with higher resolution. To keep pace, 5G will soon become the norm.
The 5G use cases can be broadly be categorized in the following manner:
Enhanced Mobile Broadband

– Hotspots, general broadband, public transport, special events

Connected Vehicles

– Vehicle to vehicle, vehicle to infrastructure and vehicle to pedestrian communication

Enhanced Multimedia

– Broadcast media, on demand and live TV, mobile TV

Massive Internet-of-Things

– Sensors monitoring pollution, noise, temperature, etc.

Ultra-reliable, low-latency applications

– Remote surgery, emergency communication, automated factories
Getting Started
Fundamentally, all the above verticals need five key capabilities: mobility, low latency, high data rates, extreme reliability and vast scale. The underlying network technologies required for 5G include:
Spectrally efficient, dense and ultra-reliable low-latency radio networks
Strong security and authentication framework
Network Function Virtualization – Cloud computing-based networks where network functions share resources dynamically and independently of geographical location
Software-Defined Networking to separate user plane and control plane functions and to support network slicing to enable creation of multiple virtual networks to cater for specific characteristics of the services being offered
Orchestration and management to fully automate fulfillment and assurance of services
Multi-access edge computing to bring services closer to the network edge
This implies that the 5G network engineering, operations and scaling have to be vastly different from all the previous generation of mobile technologies.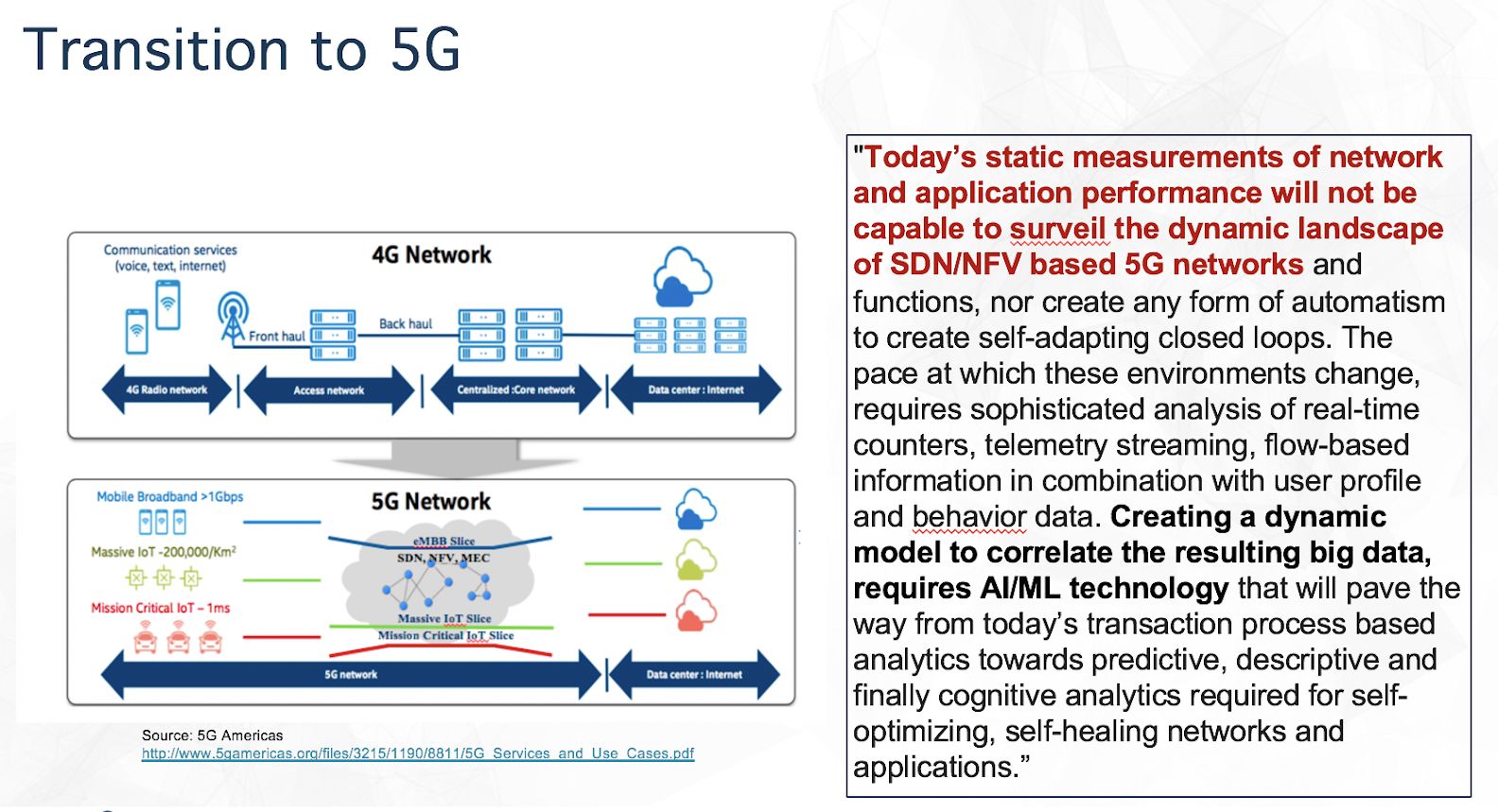 Cognitive Analytics using Machine Learning and AI
5G service requirements, user behavior and service creation will require AI/ML networks and applications that are closed loop, self-optimizing and self-healing. With this technology, often classified as cognitive analytics (and also referred to as AI analytics or augmented analytics), telcos can develop the two core solutions needed to keep pace with 5G networks:
Anomaly Detection

Forecasting demand & behavior
Anomaly detection and forecasting will be critical enablers to manage the complexity of these networks and meet the critical service expectations that will need to be met in order to serve transformative technologies such as autonomous vehicles, remote surgery and massive IoT.
5G networks and user applications/content are going to create billions of time series, logs and event data.
Anomaly detection will be one of the key ingredients to ensure the underlying network and customer support systems can self-heal and self-organize to keep pace with the high level of service requirements (low latency, high reliability) that are required to support mission-critical applications.
Forecasting demand and behavior will be key to enable service providers to automate the creation of network slices to support new usage patterns. Forecasting user demand will ensure sufficient network resources are provisioned, created and scaled ahead of usage. Taking service creation to service consumption in order to meet changing consumer demands will be the killer value proposition for 5G service providers.
AI/ML-based anomaly detection can be used to detect latency problems for autonomous vehicles, initiating the orchestration layer to spin up new network slices in order to recover performance. Another example would be to use real-time forecasting of traffic to spin up and spin down network slices. Further, anomaly detection and forecasting will play a vital role in conjunction with Self-Organizing Network (SON) to dynamically manage 5G radio resources.
In today's service provider landscape, in-house anomaly detection and forecasting are performed in silos. Multiple teams spend months organizing data, preparing models, experimenting with data, interpreting results and then trying to 'productionize' these models with a limited pool of data scientists, data engineers and analysts.
In order to avoid these bottlenecks, service providers must support the development of these core modules (anomaly detection and forecasting) as an enterprise-wide AI/ML service.
There's no doubt that 5G networks will present a major step forward in global tech and communications. As the use of mobile communication practices expands to new areas – and 5G becomes the superhighway on which all data travels – reliable, automated data-management tools will become a must-have for the majority of enterprises.
With its AI- and machine learning-based anomaly detection and forecasting, Anodot is proving to be a prominent player in the implementation and utilization of 5G networks now and surely in the coming years.
Learn how telcos are using Anodot to expand their services and improve coverage:
You'll believe it when you see it