AIOps Analytics Platform
TURN-KEY MONITORING HAS ARRIVED
When it breaks, be the first to know. Anodot works across all your data to monitor, correlate and alert in real time, surfacing mission-critical issues for your fastest time to resolution.
Nanako Yamagishi, Director of Incident and Service Operations
"Even with our massive dataflow, Anodot has proven that it can seamlessly correlate data across millions of real-time streaming metrics - alerting us immediately so we can react instantly."
KNOW ABOUT CRITICAL ISSUES IMMEDIATELY
Anodot's AIOps analytics platform is an autonomous detection technology built to monitor all your business dimensions and reduce billions of data events into the single alerts that matter to you.

With a seamless integration that aggregates your data sources into one centralized analytics platform, Anodot's AIOps monitors vast streams of IT and business data, including servers, data processes, APIs, payment processing, account activations, operational platforms and infrastructure.

Our patented technology learns your metrics' normal behavior, trends and seasonality, and identifies significant deviations, ensuring you're alerted immediately and only to mission-critical events.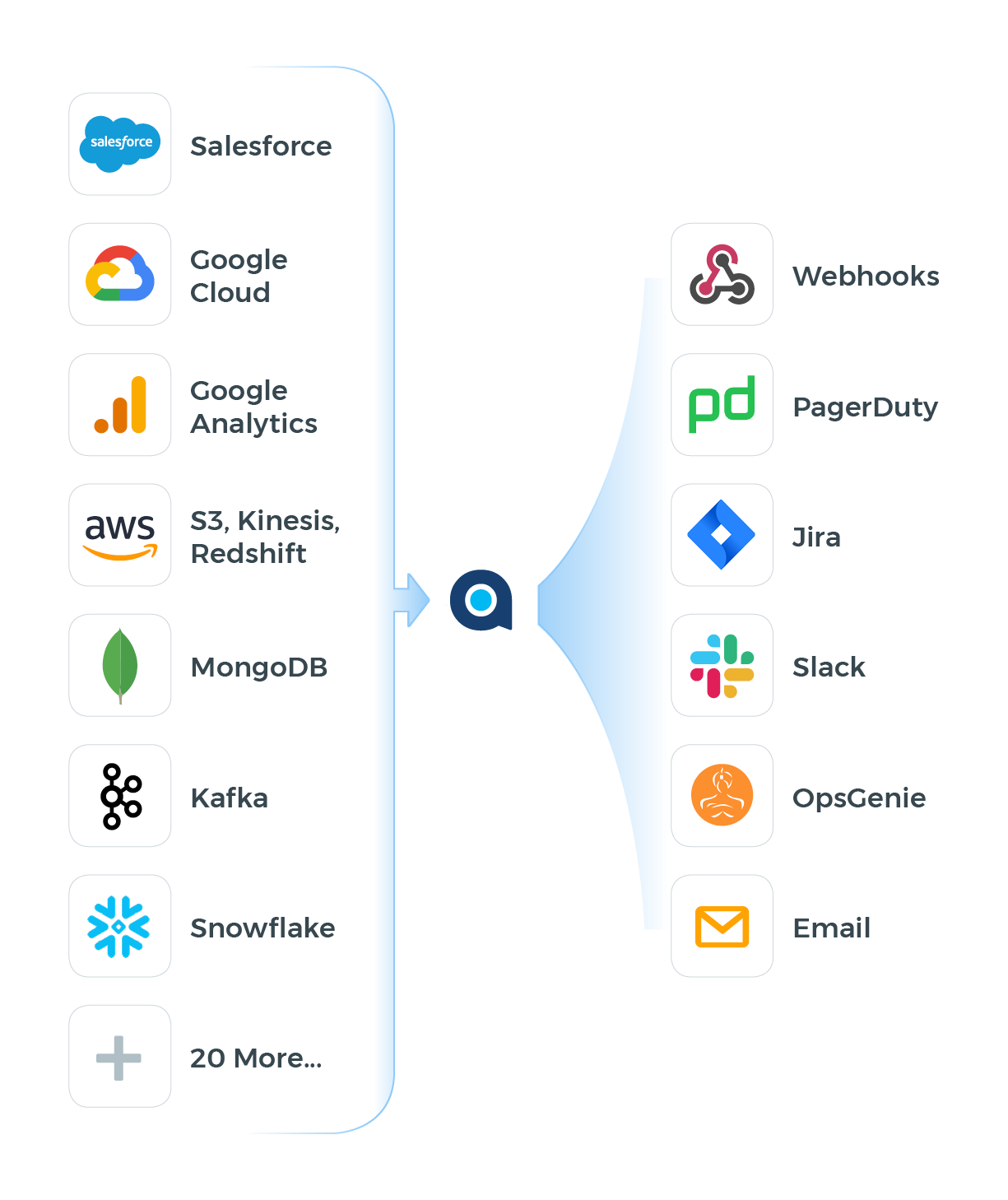 ELIMINATE NOISE AND FALSE POSITIVES
Each incident is ranked according to our patented Significance Score technology, and correlated to all relevant metrics and events.

Did your latest mobile app update break a critical purchase flow? Is your payment processing system failing? Running our patented Root Cause Analysis on entire sets of irregularities significantly reduces the time it takes to understand what happened, where it happened and why it happened.

Whether it's system instabilities, security loopholes or changing traffic patterns, you're alerted to critical issues with the information needed for the fastest road to resolution.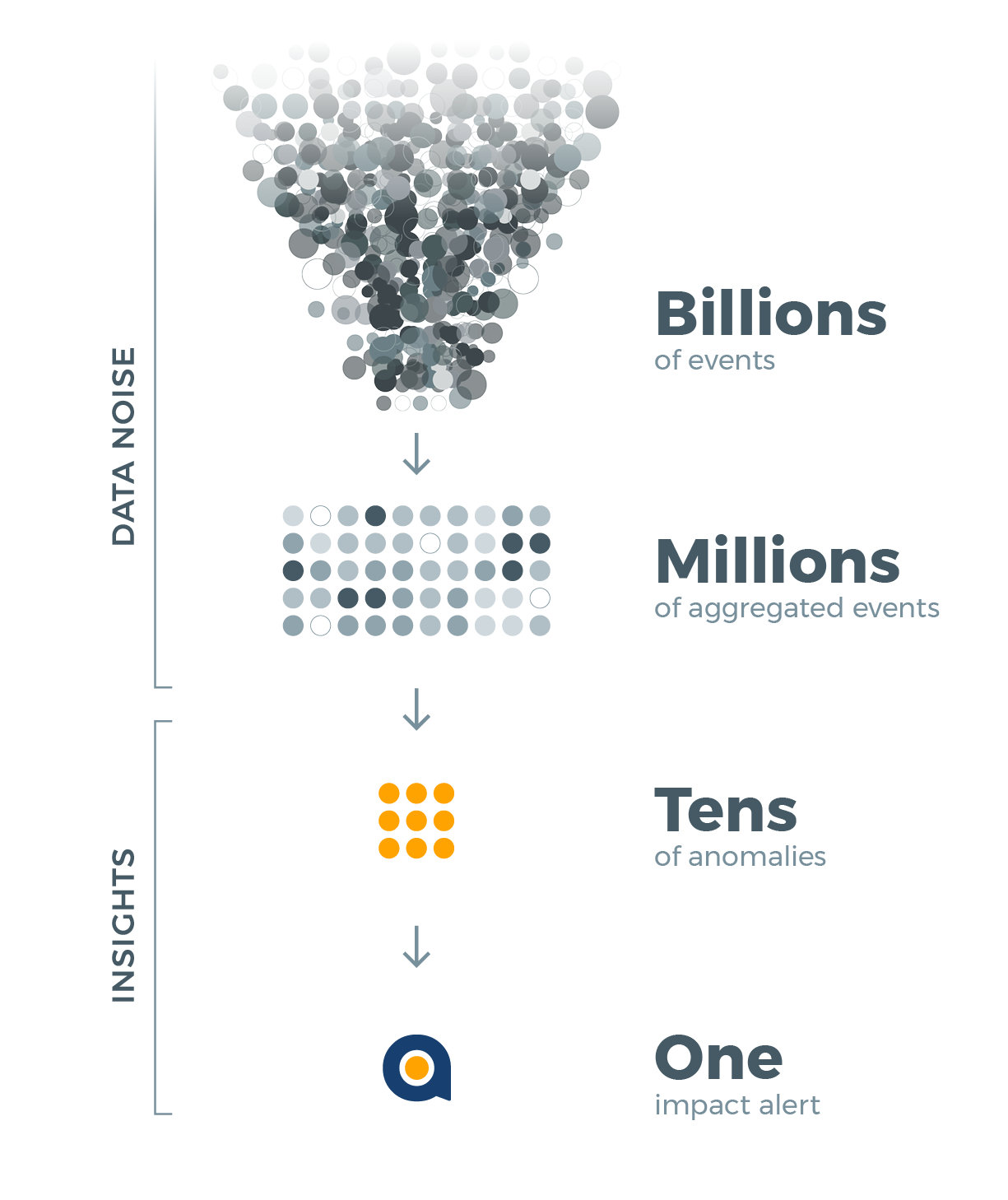 SAVE TIME AND RESOURCES BY IDENTIFYING SCOPE AND SOURCE
A late, misguided or missing response to critical incidents has significant costs in revenue, time and brand reputation, often outlasting the incident itself.

Anodot's AIOps analytics platform is built to identify and diagnose high-impact problems faster than is humanly possible. By significantly cutting down time to detection and time to resolution, your mobile app team can invest more into scaling, and your analysts and engineers can focus on what matters most.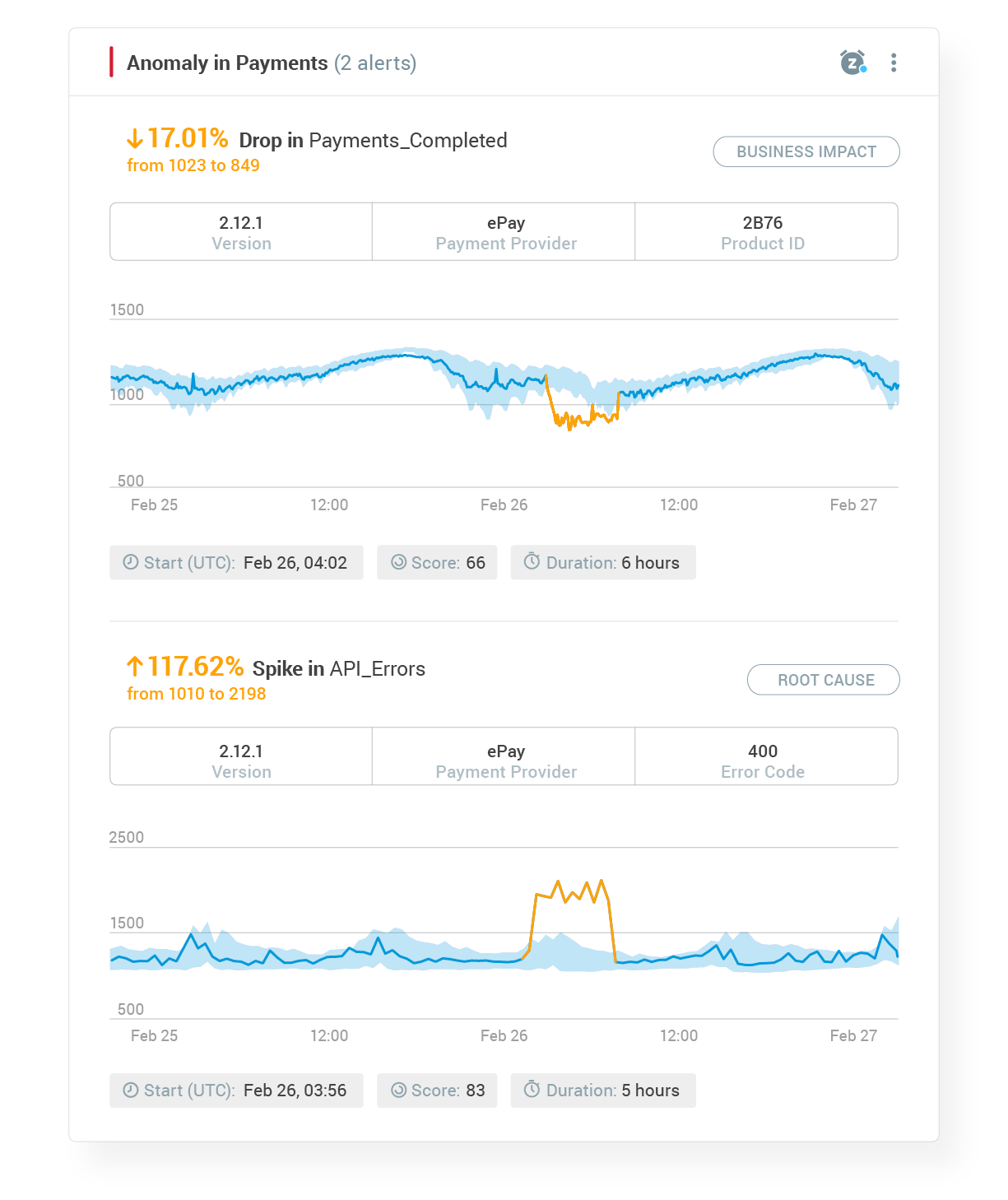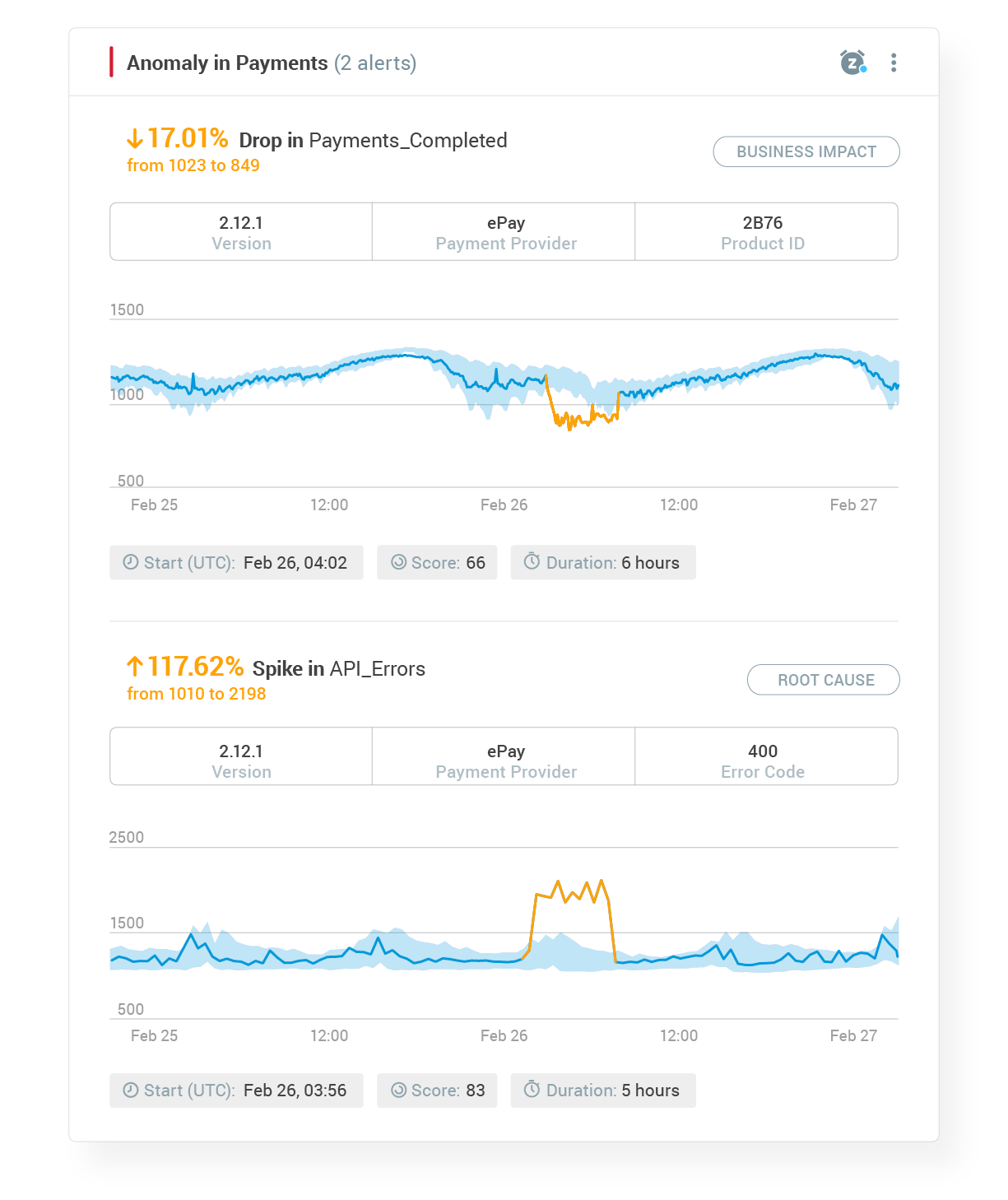 WHERE DID MY REVENUE DATA GO?!
A large online gaming operator was alerted by Anodot to a data integration failure. The ETL job that populates revenue data into the organization's data warehouse failed midway through the process, stopping revenue reporting in its tracks.

By correlating number of data loads, rows written, average load time and amount of data stored, Anodot's Root Cause analysis directed IT to a bug causing duplicated data to be written into the table, sending load time into a spike.

Engineers immediately addressed the faulty integration, restoring revenue reporting within 65 minutes of the break, with a 5 min TTD and a 60 min TTR.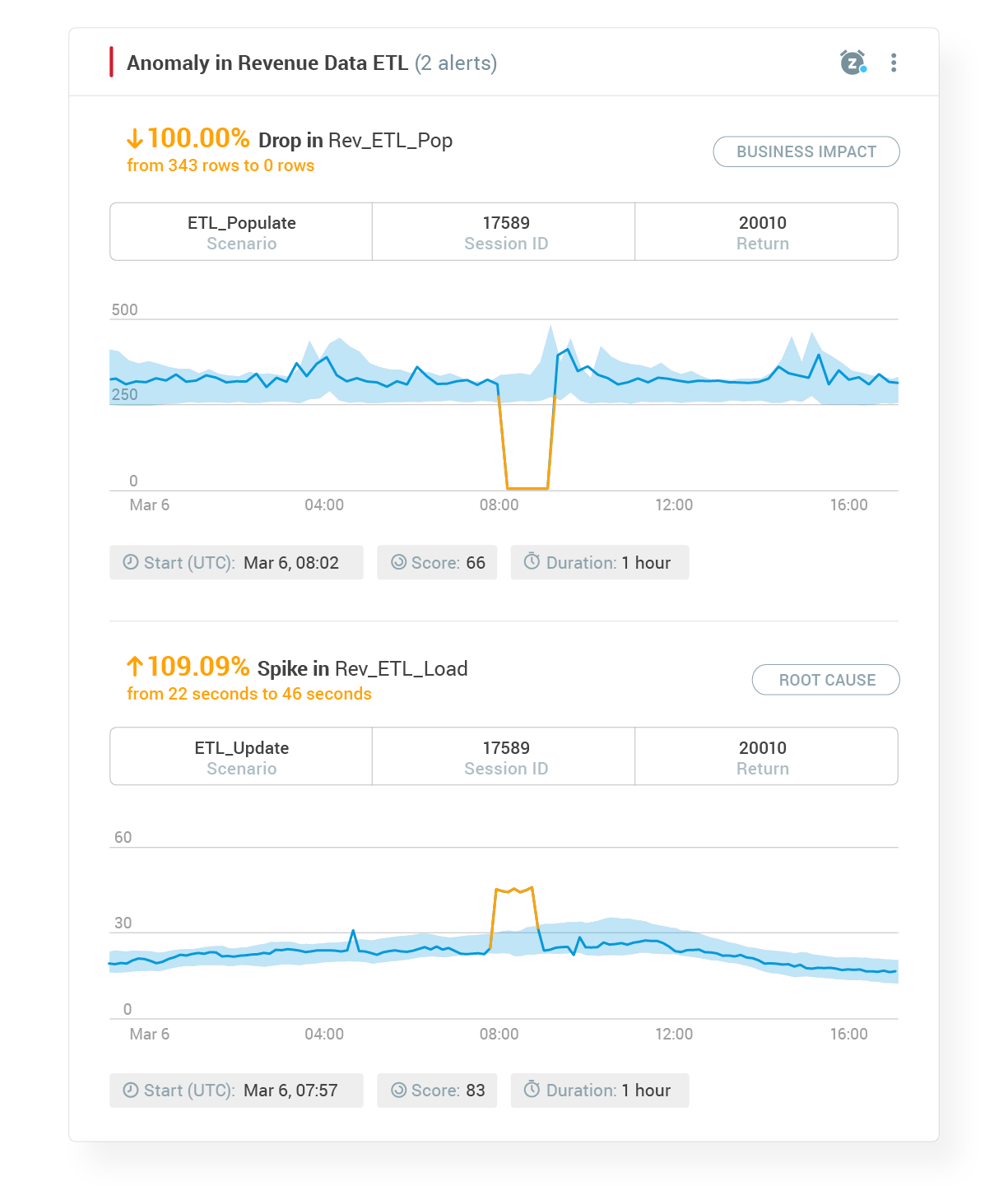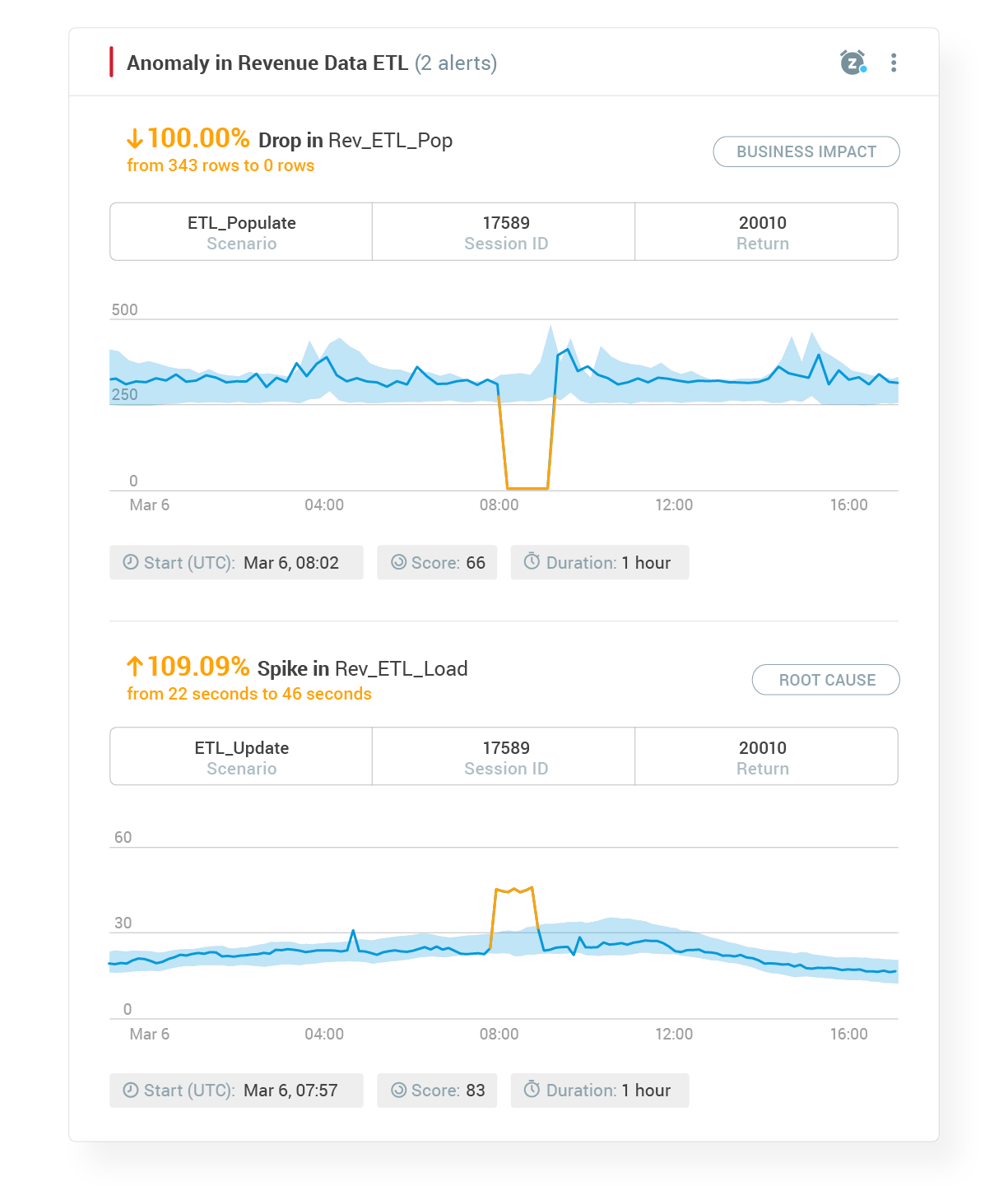 TOP BUSINESSES MASTERING THEIR IT OPERATIONS WITH ANODOT
ANALYTICS SO YOU CAN SLEEP AT NIGHT
Anodot is a full-service AI platform that monitors your data at a highly granular level - 24/7. Rest assured that if anything important happens, we will reach out.

One Ring to Rule Them All
The holistic platform collects data across all systems and touchpoints to eliminate blind spots and shorten root cause investigation.

Real-Time to the Core
Anodot monitors your metrics in real time and notifies you before issues become an issue.

No Data Scientist Needed
An intuitive interface and completely self-service UX finally puts the power of AI at your fingertips.